Be a Good Wi-Fi Neighbor!
Tips and tricks as to how you can help improve your Wi-Fi experience at The University of New Haven!
As the Office of Information  Technology (OIT) continues to make improvements on our wireless networks around campus, we need your help to make them even better! This page will help you learn how you can aid in improving the wireless in your dorm room for both you and your neighbors.
Your printer is slowing down the Wi-Fi in your dorm room!
Personal printers are allowed in dorm rooms, however, they must be connected via USB. Unbeknownst to most, many printers come with a built in router in them. This feature is known as Wi-Fi direct, and will greatly hinder the wireless experience you will receive in your dorm room. In order to resolve that, OIT requires that students turn this feature off. We have provided a link to 4 of the most popular printer manufacturers below and how to turn off this feature, however, if your printer is not listed, you can email studenttechsupport@newhaven.edu and we can assist you with turning off this feature.
What wireless devices can I have in my dorm room?
The University of New Haven allows multiple devices to connect to our wireless networks such as phones, tablets, TV's, gaming consoles, streaming devices, laptops, desktop computers, VR headsets, smart outlets, and more! If you have a question about whether or not a device is allowed, you can visit our Wireless page here or email studenttechsupport@newhaven.edu for further information

What wireless devices can I not have in my dorm room?
While the University of New Haven allows students to have wide variety of wireless devices on campus, there are some that are prohibited. Personal wireless routers, personal wireless printers, personal access points, or personal modems are prohibited on campus. Personal security cameras and other recording devices such as Ring doorbells are also prohibited. If you have a question as to whether or not your wireless device is allowed on campus, you can view the most up-to-date list here or email studenttechsupport@newhaven.edu for further assistance.

I'm Blocking the Wi-Fi signal?!
You could be blocking the wireless signal in your dorm room without realizing it. Wi-Fi needs room to "breathe" to operate to its fullest potential. If your Wireless Access Point is on the wall, chances are there may be a desk or other piece of furniture in front of it. To improve your Wi-Fi experience, move these items away from the access point, giving at least 2 feet of space between the access point and the furniture. You'd be amazed at how much of an impact this one tiny change can have for you and your roommates. 
These devices are interfering with your Wi-Fi
Everyday devices such as Bluetooth speakers, microwaves, and gaming consoles have become a part of our lives. Did you know these devices can also cause interference with Wi-Fi? To help visualize some of this interference, we have included a chart below, and have included how you can alleviate some of the issues with them.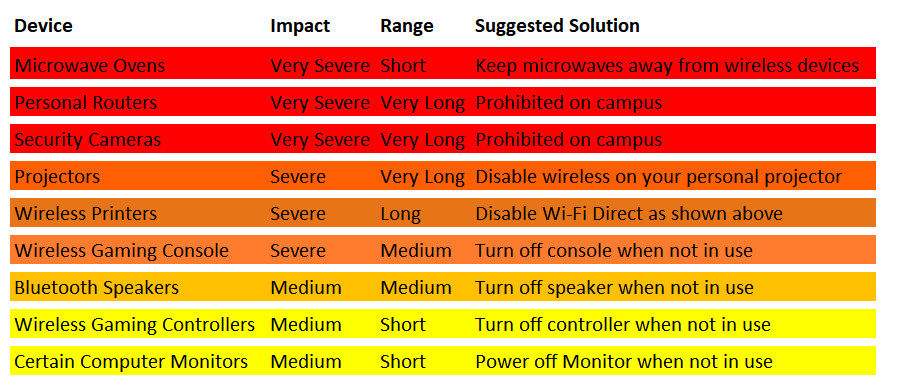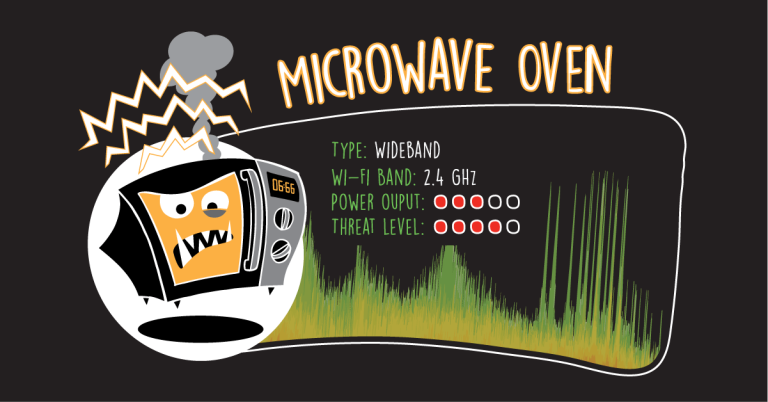 FAQs
I'm still experiencing network connectivity issues in my room, how can I get them resolved?
If this is with a specific device, please follow the steps on this page to assist with getting your device connected. 
If you are having an issue with all of your devices, we recommend waiting one full day after making these changes on the page before emailing StudentTechSupport@newhaven.edu from your University email for assistance. By waiting the full day, it will allow us to better understand what is going on with the Wi-Fi in your room and help to troubleshoot and resolve the issue faster for you. If after that one day, the wireless has not improved, please email StudentTechSupport@newhaven.edu and we will be happy to assist you.